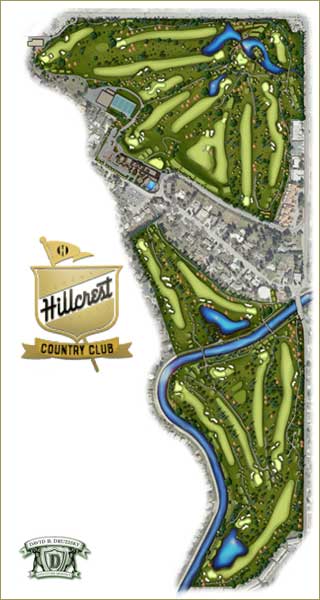 Welcome to the Master Plan Page for the Golf Course at Hillcrest Country Club
The Board of Directors and Master Plan Ad-hoc Committee is very pleased to present for your consideration this proposed master plan for our golf course and related facilities. In February of 2012 an ad-hoc committee composed of members of the Green Committee, Golf Committee, course staff and other designated representatives of the membership, was tasked to work with Golf Course Architect David Druzisky, ASGCA to craft a comprehensive golf course improvement plan.

With no pressing issues currently apparent on the golf course, the intent of the plan has been to take a proactive approach. With a thorough and professional examination we would identify needs and opportunities that might exist to insure the future golfing enjoyment of the membership and our guests. It was also agreed that we must continue to improve in order to maintain our status as the finest club in the market. Specific goals and objectives of the process were spelled out in a mission statement that can be found within the content of this presentation.

The plan was crafted over a 7 month period and included numerous meetings with the architect. David Druzisky spent considerable time on the golf course and, with additional insight provided by the committee, gained a thorough understanding of the golf course. All findings and recommendations were presented and carefully considered prior to finalizing the version being presented during these open houses.

Moving forward, the only agenda established has been to communicate the results of the plan to the membership, answer any questions that might arise, and take your comments so that we may determine the best plan for Hillcrest Country Club. In addition to this web site, plans and other Master Plan documents are on display outside the golf shop. Your comments are a critical part of this process so please provide feedback here at the end of the presentation or by using the comment cards placed next to the display.